It's impossible to know where some creative ideas come from,when they intrude into one's thoughts. It's like those earworms that wriggle into your brain,where you become a jukebox singing out a catchy song that's beamed in from nowhere.
We all have plans for stories,poems or lyrics,and make notes about them,but sometimes a phrase or an imagined 'what if ?' situation won't go away. Like a squeaky wheel,they get the most grease and jump the queue of work that you are already doing. I try to be virtuous and jot these intrusive ideas down,so that I won't forget them,but sometimes they need dealing with immediately.
There are times when I wonder if I'm turning into a robot,such as when I catch myself using the same phrase repeatedly. For instance,I'm in the habit of sighing "ah,that's good," whenever I have my freshly percolated coffee after dinner. I noticed I was saying "I didn't realise how cold I was," every time that I lowered myself into a hot bath. Living alone,I tend to utter these phrases almost as a comforting mantra,but this one struck me as inspiration for a poem.
We often don't appreciate how a situation has deteriorated until things change suddenly. It's easy to adapt to circumstances that alter very slowly. I composed most of the poem about transformation as I sat in the bath water,and wrote it down afterwards.
You Don't Know How Cold You Are
You don't know how cold you are,
Until you have a hot bath.
You realise how thirsty you feel,
When you see running water.
The aroma of cooking food
Stimulates your hunger.
I didn't know how lonely I was,
Until I held your hand.
My thirst for life was sated
By the river of your love.
You feed me all that I need,
As I consume you heart and soul.
Sometimes my poems have been the seeds from which short stories grew. I wrote a poem called 'In The Graveyard At Dawn',which was based on my experiences as a child. I used to walk my dog Micky in the fields,taking a route through a churchyard of an ancient site of worship set high above the town. This place had a special atmosphere,which I tried to capture in the poem : it was where I first became aware of my own mortality.
In The Graveyard At Dawn
A green lad out walking his black dog,
through potato-rotten fields
in the half-light of dawn,
enters the graveyard
of his local flinty church
through the back gate.
The farm track continuing
over hurdles of beech tree roots
that lance into baby graves,
tiny markers tilting – the boy
hadn't known that infants died
until his father told him so.
Nervously scanning the shadows
of a yew-shaded corner
for a grief crazed elder
who lies out on his wife's grave,
praying to join her
by exposure and osmosis.
The boy sees no raincoat shroud,
and turns down the sandy path
to the church,his dog,
his best friend,
spiritual reinforcement.
A barn owl kewicks
dissent at light's approach,
as it ghosts away.
Rain sodden grass,
from overnight storms,
shows ski-drag tracks
of feeding rabbits,
which the boy hopes
his dog doesn't see.
An empty grave beckons,
right by the path,
a place long occupied
by Civil War dead.
So,not empty then,
it's soil-tanned
warrior's bones lay
among rotted coffin shards.
Hard to tell which is which,
as boy and dog gaze down,
taking care to stay away
from a rain weakened edge.
A deluge shaft to history
that neither reveals
or shelters any more.
Mist burning off grave grass,
the boy rattles a church door,
locked tight against evil.
Vicar roused from sleep,
tousle-headed,gazing down
from bedroom window,
blinks owl eyes towards graveyard
as he hears the boy's tale.
"Overtime for the grave-digger ",
he mutters,carping at new demands
from a long-dead guest,
as he aims a blessing
at the departing boy,
who journeys into bright light
down Rectory Lane.
I expanded the poem into a short story,of the same title. It's autobiographical,so conforms to the old adage about 'writing what you know about.'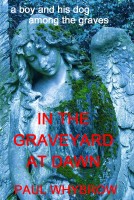 https://www.smashwords.com/books/view/379737
Writing poetry means concentrating one's themes,which is useful when broadening the content into prose. My novella 'What Would I Do Without You ?' grew into 18,000 words from a 170 word poem. It's the story of a middle-aged woman who rebuilds her life,after an unexpected end to her claustrophobic marriage. What happens to her is loosely based on the experiences of some female friends,who found themselves faced with having to reinvent themselves in their forties and fifties. 
What Would I Do Without You ?
We've been together longer
than I was alive before we met.
We've become an amoeba
that floats through life
and will never divide.
You pull that way,
I pull that,
and we stay as one.
We're happy,I suppose.
Got used to one another,
anyway….
I still wonder sometimes,
what I'd do if I was on my own.
I'm not wishing you ill …
It's just day-dreaming,that's all.
Your parents both died young,remember,
and you won't go to the doctor,will you ?
I'd wait a decent interval,of course,
but this house is way too big for one,
and I've always fancied a flat by the quay.
There's wine-bars there,
quite a social scene.
I could try being trendier,
make a few younger friends,
just for company,you know.
I'd join a gym,
go on a diet,
lose some weight.
It's sensible to be healthy.
I could get a sports-car,
scrap the old banger,
which we kept for the dog,
who's not long for this world –
surely ?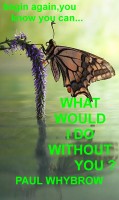 https://www.smashwords.com/books/view/395227
If you are contemplating creating a story,it might help to adopt this approach,by condensing the plot into verse. This stock-cube could yield a rich sauce.